5th FAI World Cup in Canopy Piloting


The FAI has awarded the bid to host the 5th FAI World Cup in Canopy piloting at the Johannesburg Skydiving Club. The drop zone offers a friendly, family environment, where the whole family can enjoy the day, whether they are skydiving, or simply spectating.
Event dates:

Judges Arrive:
Judges Seminar:
Official Practice Day:
Last Training Day:
Opening Ceremony:
Competition Starts:
Competition Completed:
Closing Ceremony & Awards:

27th November 2009
28th – 29th November 2009
30th November 2009
1st December 2009 12:00
1st December 2009 16:00
2nd December 2009 06:00
6th December 2009 13:00
6th December 2009

The swoop pond is the biggest on this continent. It is shaped in a diamond and has two distance runoffs, two speed run offs and one accuracy runoff. The landing areas around the pond are grassed.
Description and Diagrams of Course proposed to be used: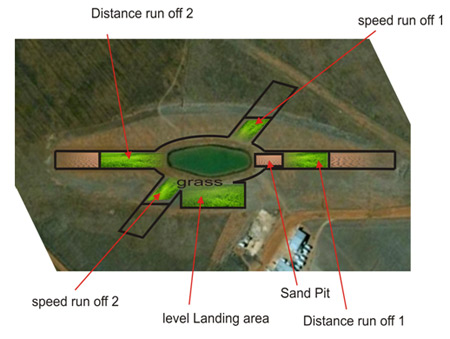 The pond measurements are:
Width at the widest point is 50m and at the narrowest point is 25m,
The length is 110 meters.
The depth 1 meter in centre of pond.
Speed Course: 75° carving northeast to southeast, 25m wide, 100m length, down centreline. No straight line through course.
Distance Course: 25m wide, 200m long from the edge of the water line on both sides of the pond.
Zone Accuracy Course: 25m wide, Sand pit 15m wide and 45m long and 30 cm deep. Sand pit starts at edge of pond.
Contact: