A 10 day trip to the World Games 2009 : 16 to 26 July 2009
By Rob Kruger D718
It all started at my home dz, PSC, who won the bid to host the FAI World champs in Canopy Piloting 2008. SA sent a full team and we ended up doing really well, therefore opening our doors for other big events.
The latest being the World Games in Kaohsiung, Taiwan. It was the first time that CP was part of the World Games, as sports of these Games are non-Olympic trying to get Olympic status. The best athlete of the first 10 countries was invited to go.
After a long flight, I landed in Taipei. Volunteers were assigned to each athlete helping us to make our way to Kaohsiung, 160 miles south from Taipei. Arriving in the host city of the World Games we were treated like celebrities, from beginning to end.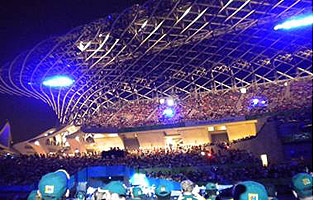 World Games 2009 opening ceremony
On the 16th of July was the Opening Ceremony of the World Games 2009. Around 3500 athletes were lining up in alphabetical order . When I got to the South African Team I was unfortunately not greeted with open arms. It seemed that I was not signed up with SASCOC, being the only athlete there that was therefore not wearing the South African uniform as the other 94 South Africans. As SASCOC's representatives were not notified of my participation, it resulted in me being refused to be part of the South African Delegation. Kindly, I insisted that I was walking with the South African Delegation, regardless. Apart from this major hiccup, it was an unbelievably awesome experience. Fireworks, local music and speeches kept us all entertained for a few awesome hours.
| | |
| --- | --- |
| Air sports opening ceremony | Team SA |
The next day was training day. Unfortunately we were unable to jump because the event schedule was running slow. Luckily though, we were able to jump the following day giving us a chance to swoop the course before the competition. Our DZ was in the middle of the city, in the Metropolitan Park surrounded by big trees and a concrete jungle. The airsport athletes were assigned to two BK 117 helicopters. The weather conditions were quite windy in the heat of the day, but this could be expected from a coastal city. Nonetheless it was monsoon season, incredibly hot and humid and temperatures rising up to 35 degrees.
Besides CP, there were 5 other Airsport Events. It was amazing to see Arizona Airspeed, the world's best 4-Way Team, as well as Babylon, the French Freefly Team, in action. Its not every day one gets to mingle with the World's best Skydivers.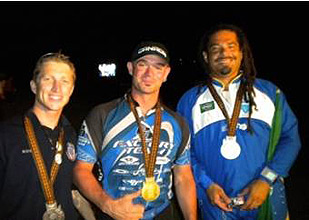 World Games Medal winners Nick Batsch (USA), Jay Moledzki (Canada) and Marat Leiras (Brazil)
Over the next 5 days Jay Moledzki almost had a flawless competition which was expected, with Nick Batsch and Marat Leiras closely following. Jay and I both got a 100 points in an Accuracy round which I was very pleased about.
Aside from being a part of such a big sporting event, I learned a lot by being around professional skydivers. It was an experience of a lifetime.