My introduction to Canopy Formation
By Charles Barnhoorn C1717
I was introduced to Canopy Formation (CF) the gentle way, by doing camera for a four-way rotation team. I expected to see some exciting moments and some great sunrises under canopy and I was not disappointed. I quickly learnt there is a lot more to CF than this though.
Flying in the burble of the four- stack for a few months showed me the real fun of this discipline. Willing the team to build the first four-stack in under 30- seconds. Watching the technique of the top man rotating to bottom and then the next man starting his well-rehearsed approach. Entering clouds and trusting the team to hold their formation. Trying not be distracted by the sailplane that came in for a closer look at this incredible stack of canopies. And working at getting quicker and closer every jump. Like everything else in skydiving it quickly became apparent this was all about timing, teamwork, accuracy and trusting your friends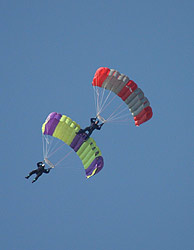 I am a cautious person and when offered to join in with the stack this past weekend I had some initial reservations. I had heard stories of interesting moments and even filmed a few. So, preparing for the worst I donned many layers of warm clothing and packed two long hook knives.
We chose what I am sure will prove to be the coldest weekend of 2009 for my four-way initiation. The aircraft protested at being started so early. And yet I was simply too busy and having too much fun to notice the cold in my fingers until it came time to pack for the second jump. I had that same feeling that I had after my first-ever skydive. That incredible realisation that you have just done something that you know you probably could explain, but if the person listening hasn't done it, they just aren't going to quite get you.
To take advantage of the stable air before the thermals started up, we jumped again as quickly as possible. Gerrie as base, André as pin, Sharky in 3rd slot and me as 4th. The air was starting to warm up, and I started getting my head around the idea that a gentle collision with other canopies needn't be as scary as they made out in the first jump course. In fact, done correctly, it could be very addictive.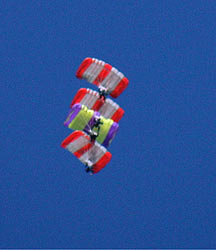 After exit and a quick opening, I lined up the assembling three-stack just in front of me. I worked my toggles and risers to meet the targeted pair of feet and soon they were against my front lines. A bit of toggle input and those feet slid down close to my risers. Moments later I was looking out for Gerrie's parachute coming to dock me, and the two orange centre lines were nudging up against my hands. I got my feet inside the lines and started working my way down to help minimise the total height of the stack, making it easier for André, now at the top, to manoeuvre to the bottom of the stack. I found myself perched within oddly comforting lines with parachute nuzzling up against my back. Andre docked below and Sharky above began his rotation. I gave some toggle input to slide to the top of Gerrie's lines and then it was my turn to pull my feet away and start the '"rotes" again. Peel off the top of the stack using toggles, pull and hold the front risers and approach the lowest man. It surprised me that mainly subtle movements are needed to get you there, and I gained a whole new respect for my parachute's flying ability. Fear of wraps made me turn too far from the stack, but I got back to my slot eventually. And what a feeling that is. But, no time to relax, because there was always the next role in the stack to work on. Like a FS dive it is intense and very busy except here its all happening under canopy.
Then, when I thought I could relax and head for landing, a canopy pushed up against my legs. I could see a big grin on the face looking up and I knew the time had come to do the much-anticipated downplane. Shuffling down the centre lines I found myself face to face with a beaming Sharky who proceeded to remind me with calm and precise words what our next steps would be. The last time I had chatted with someone under canopy was for my tandem, I remember well how new the entire experience was. How appropriate then as this seemed not just a new discipline but almost a whole new sport.
After a few controlled moments we entered our downplane above the DZ. I cannot admit to understanding a downplane until I did one, and then I enjoyed it far more than any of the scenario's my imagination had tried to create. My muscles burned at holding on and after a few exhilarating seconds we parted and my canopy surged and planed out as if being pulled from strong front- risers, perfectly stable.
After landing I said those same words as after my first skydive, "Let's do that again." And not for the first time since I took up skydiving I couldn't stop grinning. My humble advice to those wishing to get into CreW: as always, study the MOPS, bring hook-knives and gloves and find some able and experienced CReW 'Dogs' to show you the ropes. You'll love it.