RSC Fun Accuracy and OAC party : 6 June 2009
By Liz Cooper C1665
Rustenburg Skydiving Club was doing a lot of celebrating on the 6th of June 2009.
With the return of the dropzone Cessna - OAC - after her absence of a few weeks, all the jumpers got together for a fun accuracy competition. This friendly meet allowed all skydivers a chance to fine-tune their canopy control. There were senior and junior categories. Everyone entered after a briefing from Annelie and Patches. It was great to see the smiles and laughter, mostly due to the interesting landings. We had some guest jumpers who joined us on a couple of night loads. Thanks to some great judging, winners were decided and prizes given out over dinner and drinks.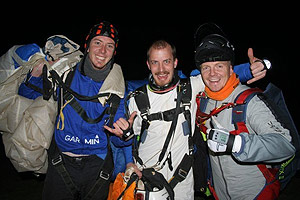 L-R: Corné Vorster, Helge Harms, Oliver Nöthen
The fun didn't stop there as two of our members were celebrating birthdays. The party went on well into the night and fun was had by all.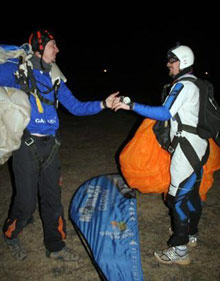 Corné and Helge
RSC will be hosting some more Fun Accuracy very soon ... Come and join the Fun!