Off-season Paraski training
By Tim Mace D775
The team from this year's World Paraski Championship, plus Dave and Yvette van der Merwe, held some excellent off season training recently, and also competed in the annual Kings Cup race meeting, at the Afriski ski slope in Lesotho. Dave was racing on his third ever day on skis! This is a brilliant place to train in between the European snow seasons. They have a slope about half the length of a full Giant Slalom race, and that's perfect for race training. They have now started a racing school, run by Rudi Tangl an experienced Austrian racer who runs the ski school there. Every weekend they hold race training on Saturdays and racing on Sunday for a race series called the Grand Prix.
A Friday to Sunday at Afriski will set you back about the same as 10 jumps; that's fuel from Jo'burg and back, accommodation, food, ski equipment hire, and ski passes. If you need ski school add another 3 jumps. Of course it's more expensive to travel from Cape Town but it's well worth it, and lots of Capetonians were there for the Kings Cup. For those who do accuracy, we're hoping to do some accuracy jumping there next year as well.
We're on the lookout for potential team members for the next World Paraski Championship in Austria in 2011 so, Go Ski!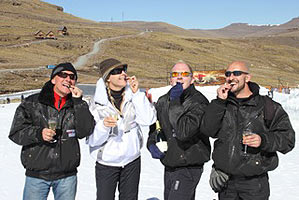 The usual Sunday champagne and chocolate