2009 ParaSki World Championship - My first ever world meet
By Nicolaos Karagiannakis D875
There I was, this time I knew I was gonna die... Leaning over my skis at the start-gate of a grand slalom race, in almost white-out conditions (where one could barely see the second set of gates), at the top of an Austrian peak, waiting for the countdown to my first ever ski race.
It was my 9th day ever on skis and I was racing against olympic-level skiers in a World Championship event. And when this day ended I had to jump out of a helicopter from 3000ft in a valley between two Austrian mountains to try and hit a bulls-eye 3cm in diameter on the side of one of these mountains.
This was all part of the ParaSki 2009 Wold Championships that took part in Donnersbachwald in Austria in March this year.
ParaSki is a combination of Accuracy Skydiving and Grand Slalom Skiing in separate events with one total score.
The two events work as follows:
Skiing
1 Giant Slalom (GS) qualification run and 2 GS races, down an Olympic course, 120om long with a drop of approximately 300m drop (i.e. not as steep as a black run, more like a blue/red for those that know the ski slope classifications) with 32 gates
Winners do it in about 1 minute. Every 3rd of a second behind winner you get penalised one point.
If you want to get a score the priorities are:
1. Essential: Go through all the gates (if you miss a gate – no score)
2. Advisable: Try and do that without falling over (no penalty but it slows you down)
3. Optional: Try and do it fast.

Grand Slalom Race. Only the first 2 gates were visible. (Nicolaos – showing great talent & pizzazz... LOL)
Accuracy
6 team accuracy jumps from 3000ft. (4 people leaving on the same pass, all going for the same target)
1 final accuracy jump for the top 20% from 2300ft (individual pass).
All onto a slope of at least 25° but no more than 35°
Target is a padded area 5m in diameter.
An electronic 3cm target is in the middle (called a 'disc')
Hitting the disc awards you 0 points. You get one point penalty for every cm away from the disc.
The maximum score is 50. So if you jump and land 5km away you will only score 50.
| | |
| --- | --- |
| Nicolaos - Chopper exit | Chopper – Squirrel |
| | |
| --- | --- |
| Chopper at altitude | View from chopper |

Accuracy mat on the hill

Accuracy pad – the yellow dot in the centre is the
3cm disc
This all started one year before the championship. It was early 2008 and Tim Mace was chatting to Jasper and I about going to Austria for a cheap skiing & skydiving holiday.
Long story short, a year later Tim Mace, Oliver Nöthen, Vinca Cox and I (Nicolaos) were at Donnersbachwald in Austria representing South Africa in the ParaSki World Championships. We were competing against countries were skiing was a way of life. We were the 'Cool Runnings' team from SA.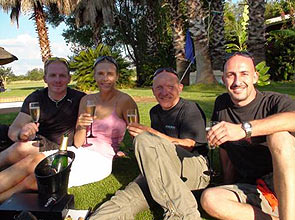 SA Team quenching our thirst with Champagne after a hard day's accuracy training
L-R: Oliver, Vinca, Tim, Nicolaos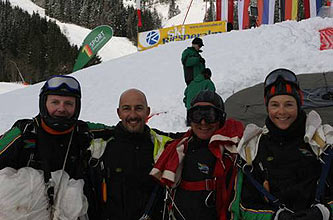 The South African 2009 ParaSki Team
L-R: Oliver, Nicolaos, Tim, Vinca
Three of us arrived in Austria one week before the meet because two of us had to learn how to ski and the fourth joined us two days before the meet started.
It was for all of us an awesome meet that will never be forgotten. We loved Austria; it's very hospitable and friendly, with people and competitors from around the world.
The best of all was that the rest of the world got to meet us – The South Africans who came from the south to compete in accuracy skydiving and also in skiing. The applause and congratulations we received for competing in the ski race was a testament to that.
| | |
| --- | --- |
| One of Austria's very friendly inhabitants | SA team leader & coach (Tim Mace) showing diplomacy |
| | |
| --- | --- |
| Tim- Coach & Team Leader | Nicolaos & Oliver 'chilling' |
So now I can't wait for the next ParaSki Championships in two years' time, also in Austria. This time I will be better trained in accuracy & skiing and should be able to chat to the Russians in Russian (A bet I took at the awards eve after a few schnapps shots!). – Although truth be said: for someone with zero skiing and minimum accuracy experience, I only came fifth last!
A big thank you to my team-mates who made this a memorable event and especially to Tim for lying about the horrors I was going to face (or I would not have taken up the challenge) and for his great coaching and leadership – and of course the chocolate & champagne.