PASA Management Council : A new era for PASA
By Charl Rootman D720
On 6 March 2009, a Special General Meeting (SGM) for PASA members was held, with the main purpose to consider proposed amendments to the PASA constitution. The constitution was under review for some time, with various parties feeling that it was wanting in various respects, even contradictory in some, and that it should facilitate a more functional structure for PASA.
The SGM approved most proposed amendments, with the result that PASA now has an improved structure, including a Management Council (MC). The new structure is as follows: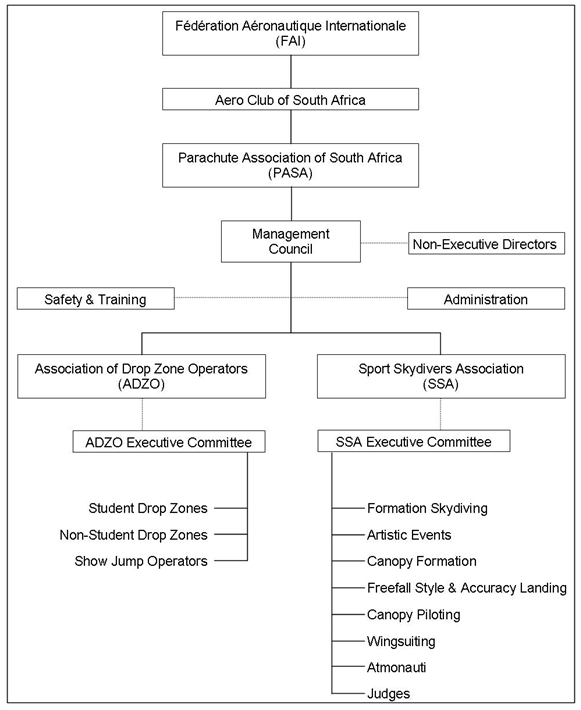 The MC consists of four members. Of these, two are elected from the executive committee of the Association of Drop Zone Operators (ADZO) (with voting rights on the council), one is elected from the executive committee of the Sport Skydivers Association (SSA) (with voting rights), and one will represent the Non-Executive Directors (NED's) of PASA (with no voting rights on the council).
According to the amended constitution, the duties and responsibilities of the MC will be "to oversee the main areas required to achieve the mission statement and principles and aims of PASA", and "to ensure adherence to the rules and regulations of PASA". In the words of James Meyer, one of the NED's who facilitated the process, the MC is envisaged to be a "central oversight committee which serves to tend to matters of the association relating to the mission and principles and aims, that also provides a secretariat or administration function, whilst allowing more specific tasks, in the form of duties and responsibilities, to be handled by more focused committees".
The committees referred to are the two subsidiary associations, ADZO and the SSA, which will continue to operate autonomously from each other, as well as the safety and training function. These will continue to function as it used to, with its respective duties and responsibilities. However, the structure now reflects that the safety and training function serves the association as a whole, rather than only part of it. This also applies to the administration function.
The amended constitution also reflects that executive powers have been removed from the NED's, and transferred to the MC. This specifically refers to Appendix 2 of the constitution, dealing with discipline, and implies that the MC will deal with issues regarding discipline of PASA members, hearings, sentencing and related matters. It is envisaged that over time the MC may take over the functions of the NED's in totality.
In general, it can be said that the MC, with its chairman, will become "the public face of PASA". It will represent the association as a whole, and oversee all the subsidiary functions. More importantly, it will represent every individual PASA member as well.
The current PASA Management Council: