POPS mini-meet : 27 June 2009
By Ken Elliott D816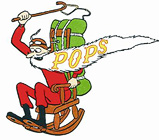 The Parachutists Over Phorty Society held a mini meet and accuracy competition at Witbank Skydiving Club on 27 June 2009.
The accuracy event went very well and without incident. Seven pops were in attendance and they completed two rounds per person.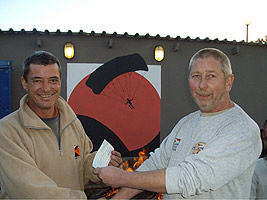 Wolfgang Gebetsroither and Ken Elliott
First place and R500 went to Wolfgang Gebetsroither, POP #54, with scores of 500mm & 100mm flying a 135 Hurricane.
Runner up and free reserve repack went to Ken Elliott, POP #19 / TOP POP #2, with scores of 200mm & 500mm flying a 150 Hurricane.
These scores very good considering they were actual landings and not stabbing the target on the swoop.
Pretoria visitor, Deon Kritzinger, POP #32, stayed on and completed all his night jump licence requirements.
A roaring fire and braai was just the job for a chilly winter's night and a few beers were consumed in the process.
There are currently 61 POPS members in South Africa. If you're over 40 and interested in joining, contact pops@para.co.za Lifetime membership costs only R200 and you receive a POPS membership card and certificate as well as a POPS cloth patch.
The planned World Pops meet 2010 venue in Italy has been moved from Verona Parachuting Centre to Body Flight University Parachuting Centre at Reggio Emilia and dates will now be 4th – 12th June 2010. www.pops2010.it.