Shake Off Winter with the launch of SASL!
By Claire King D863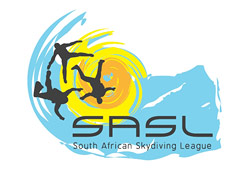 So, Nationals is over and all but the bravest have been hibernating from the weather and the bank manager during the slump months of the South African skydiving year. It's OK to take a break but enough is enough and now we have a great reason to get you back into the circuit.
Introducing SASL: The South African Skydiving League!
SASL is an exciting ONLINE league starting up in August 2009. Cape Town, Robertson, Grahamstown, Mossel Bay, KZN, Bloemfontein, Plett, Walker Bay - did you hear that?!? It's online – you can play too!
The league will comprise team and individual components. Teams can win the monthly meets and individuals accumulate points based on their performances until the end of the league season, when the highest scoring individual walks away as the overall winner with a really great prize. Really great!
Better still, all entrants carry handicaps based on their experience levels. This allows for someone with 80 jumps to fairly compete against someone with 5000 jumps. The handicap is determined by a set formula applied to every jumper.
SASL will run the league from August until March every year, giving teams and individuals regular competitions, direction and the chance to win great prizes. The league is open to all SSA members (within the PASA regulations, of course).
The draw each month will be fun and varied, drawing from the current dive pool, really old dive pools, and I am sure one or two "never before seen" Newman Specials.
Better still, you don't have to enter with the same team or partners each month – if your team is unavailable, scoop up some extra points over them by entering with someone else. SASL promises to be loads of fun.
So.. What's the deal?
Who?
Currently, SASL has Freefly intermediate and open, Atmonauti ARW2 (National League Atmonauti), 2way Formation Skydiving and 4way Formation Skydiving.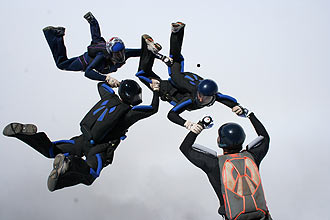 Experience levels: Anyone can enter provided they are within the PASA regulations and they do the jumps at a PASA DZ. Your experience level will be well equalized with everyone else's by the handicap formula, allowing you to seriously challenge everyone else.
Camera is the team's responsibility. Cameramen and camerawomen are eligible for team placing at each event, but if they want to be eligible for the individual prize at the end of the league (the BIGGIE), they'll need to enter an event as a standard team member as well.
Frequency?
Draws will be released once a month and published on the SASL website. You will have 3 weeks within which to complete the rounds (3 rounds) and submit your footage online. This should allow even the coastal jumpers the chance to sneak in jumps between their weather weekends.
Judging
SA Skydiving Judges will download the footage to judge and at the end of each month the team results and the individual leader boards will be published weekly to the SASL website.
Location
You can compete at any PASA DZ in South Africa. If you're looking for some vibe, DZs may host SASL meets locally, and yes, we mean those outside of Gauteng as well. This doesn't force anyone to compete at the host DZ; it just gives the DZs a good opportunity to make an event of it with whatever additions they would like to add for that weekend.
SASL is aiming to get a representative at each DZ to answer questions, help you engineer, accept footage for those who can't upload it onto the site, etc. If you would like to be a SASL representative at your DZ, contact SASL – details at the end of this article.
Cost
Cost? What cost? Skydiving costs us enough. Making it fun and spurring on competition is free.
Prizes
The SASL committee is still finalising the individual prizes, so until the big announcement, you'll have to take my word for it – you want it!!!
Awards will be made at the PASA National Championships at the end of each League season. Awards will include Floating Trophies, Medals and of course, the main prize for each discipline.
Rules
There are always some rules. Each participating discipline will publish its rules on the SASL & PASA website. Using the Nationals 2009 support and judges feedback, Atmonauti will be publishing its updated rules document shortly - look out for the improved range of moves!
Contribute
SASL is working feverishly to deliver a fun competition that costs nothing, includes everyone and offers wicked prizes. Thus its success depends heavily on sponsorship, volunteers and donations. If you or anyone you know is keen to help out in any way at all, please contact the SASL committee. If this year works well, SASL could become a permanent fixture in SA, where we desperately need more competitions.
Contact
Give us a shout with questions or if you would like to be a part of SASL – organising or competing.
The SASL Committee consists of:
Dirk Venter (FS) – 082 643 6197 info@dphi.co.za
Claire King (FS) – 082 886 3544 sales@dphi.co.za
Bailey Edmunds Jnr (FS) – 082 552 1895
Marco Ciocca (Atmo) – 082 600 6569 / marco@macaronis.co.za
Roy Steemson (Atmo) – 082 559 4795 / roy@dbn.stormnet.co.za
Graeme Waugh (AE) - 083 441 7111
Brendon Delate (AE) - brendon.delate@gmail.com