Skydive Robertson CReW Camp : 22 to 23 August 2009
By Melissa Hattingh A6933
"The higher we soar the smaller we look to those who cannot fly." -- Frederich Nietzsche
Erik Vliegenthart, together with SSA coach, Andre le Roux, will be hosting a CReW camp on the weekend of 22nd & 23rd August at Skydive Robertson (WPSPC). This weekend is designed to provide an opportunity for experienced CRW jumpers to become current and attempt a staggered 4way formation and for jumpers with little or no experience in CRW to learn and receive training.
Andre le Roux has been skydiving for 30 years. He jumps competitively and socially and has performed many demonstration jumps in his skydiving career (currently a member of the Jump Garmin Skydiving Team). He is a rated instructor and coach. He has been in many winning teams at National Championships from 1988 to 2008 and has competed at several World Championships and is training for this year's World Championships. Andre is also the current Chairman of the Sport Skydiver's Association of South Africa.
Crew canopies will be provided by Erik
No registration fee
Jump prices have not yet been fixed. Cost will depend on the number of participants, as we will receive funding from the SSA. Interested parties will be informed of final costing ASAP
CReW loads will be premanifested and will receive priority
All participants will be cleared by the CI, Alister McQueen
All participants will receive a briefing on the Saturday morning
All participants must be familiar with section 8 of the MOPS as well as equipment as per section 8 of the MOPS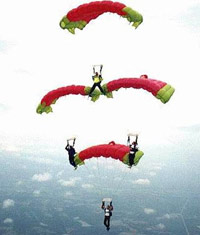 CReW ultimately leads to producing better canopy pilots
All jumpers with 100 or more jumps are encouraged to take part. If you are keen to make use of this brilliant opportunity, please respond before 10 August 2009 to melissa.hattingh@gmail.com and provide us with the following information.
Jump numbers
Current Canopy Size
Amount of jumps that you are interested in doing
CReW experience (if any)
Indicate if you will be interested in the staggered 4way formation attempt