Walker Bay Skydiving launch weekend
By Erik Vliegenthart D789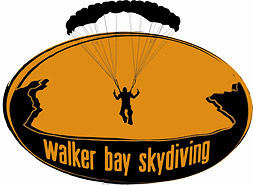 The 9th of May 2009 marked the opening of Walker Bay Skydiving, Africa's southernmost drop zone. It is located at the Heidehof airfield near Pearly Beach on the Cape South coast. It is near Gansbaai which is well known for shark cage diving and whale watching. The drop zone is 3.5 km from the beach. The view from altitude covers Cape point, Hang Klip and Cape Agulhas. Dyer Island, well known for its great white sharks and bird life is clearly visible. WB skydiving was founded by Erik Vliegenthart and is partnered by Anthony Malherbe.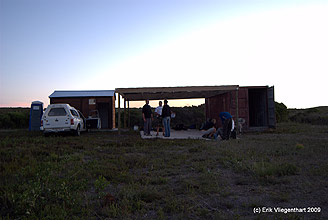 We saw the opportunity for a tandem business that could also benefit skydivers in the Western Cape. It has taken 9 months of planning and permission seeking to get all the necessary approvals. We are mainly focusing on tandems but B-licence and above jumpers are welcome. Our long-term plans are to offer skydiving for all skill levels.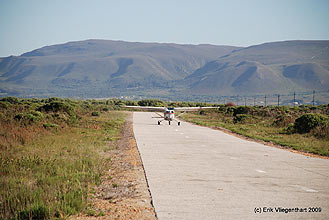 Currently we only operate weekends and public holidays but we are planning to open 7 days a week from 15 December 2009 to 15 January 2010. Anyone what wishes to come and jump is advised to contact us before hand on 078 136 1008 or bookings@wbskydiving.co.za.
The opening weekend was well supported by local skydivers. The weather was perfect with clear skies and a light South Westerly. The use of Skydive Robertson's turbo 206 helped for quick turn-arounds. The first load was a good start with a multi point 6 way by some of SA most experienced jumpers.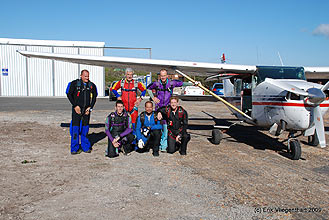 First load:
Standing left to right: Rod Alexander, Leen Vliegenthart, Alister McQueen
Kneeling left to right: Erik Vliegenthart, Bradley Curnow, Steve Norris
Pilot: Hennie Louw
Being a new drop zone means facilities are at a minimum. But thanks to Corné and Gordon, 2 local jumpers, a shaded and carpeted packing area was available.
Unfortunately the wind became a little too strong for some of the jumpers, but those that jumped agreed that Walker Bay has great potential and is a place everyone should jump at.
A big thank you to everyone that has helped make it happen.