World Cup in Canopy Piloting : 2 to 6 December 2009
By Kelly Helfrich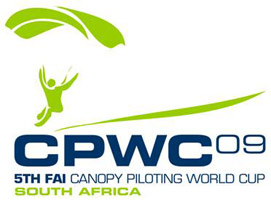 Living in Africa has its benefits. The hot summers, the (supposedly) mild winters and the noticeable lack of natural disasters. But as a skydiver, or any sportsman for that matter, whether recreational or professional, living in Africa, the far southern tip to be more exact, is a serious drawback.
Being so geographically separated from the rest of the world has meant exactly that - we are very secluded from what's happening out there.
For most skydivers, the dream of taking part in a world event will remain a dream. But in the last two years, the tide has turned. Pretoria Skydiving Club got the wheels turning in a big way with the World Championships held in November last year, and this year will be the icing on the top for the competitors.
Who could forget the Opening Ceremony with all those flags flying from 19 different countries.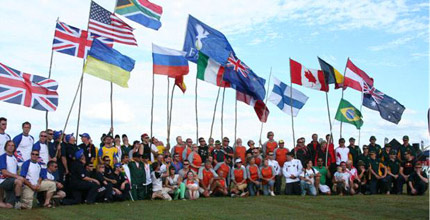 Events like this one give us more then just a show, and way more then just a way to fill up our calendars. For the guys that ordinarily would never be able to afford to travel overseas to take part, they now have that opportunity. An opportunity to compete on a level playing field, to learn from the world's best, and to rate themselves in a very big pond of fish.
And rate themselves they did. Chris Teague medalled, and was selected to compete at the World Air Games along with Rob Kruger. Only 15 people were chosen worldwide and we were only one of three countries that had two representatives selected. What an amazing achievement. Rob was also selected to compete at the World Games. It's been quite a year for both of them, and one that will definitely go down in the record books.
But it's not only the competitors that benefit from these competitions. It's the aspiring skydiver who has just come along for a day out, it's the intermediate skydiver who has only heard about these guys. This is where the inspiration comes from, the extra kick to get to the dropzone on a cold winters day to keep learning, to keep training.
This event will be running from 2nd to 6th December 2009, with the training running from 21st November and will be held at Johannesburg Skydiving Club. For all other information, such as registration, directions and facilities, please visit www.canopypilotingsa.co.za.
JSC and the organising committee have put in a tremendous amount of work getting the grounds and systems up and running, but more importantly, getting it to World Class FAI standards. This is an event South Africa will be very proud of.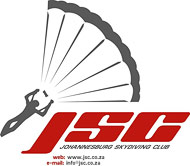 For the canopy piloting guys that are hoping to get to represent South Africa at this year's competition, the stress is not over yet. The team will be announced mid-October, and selection will be based on Nationals results, as well as mini-meets to be held at both Pretoria and Johannesburg Skydiving Club. We wish every one of you the best of luck, soft openings, fast landings and blue skies.