World Air Games : 6 to 14 June 2009
By Julie Teague C1603
After their great performances at the CP World Champs at Wonderboom last year, Rob Kruger and Chris Teague were recognised as some of the top canopy pilots in the world by being welcomed to the World Air Games in Italy this May. This spectacular aeronautical event is by invitation only, and covers 10 sports, hosting over 30 competitions.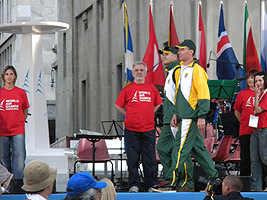 The boys from the highveld arrived at sea level on Saturday the 6th to a massive reception and parade through a busy and ancient town square, cheered on by over 30,000 spectators. After two quick practice rounds on the Sunday, the competition got off to a shaky start for both guys, with the huge difference in jumping at altitude and jumping at sea level quickly becoming apparent. Naturally, the professional canopy pilots from the Performance Design team, and the European jumpers used to the thick air at sea level, had a field day as the first two rounds of accuracy where completed.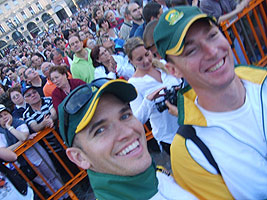 The next day started off a lot better for Chris, who managed a first place round for distance, setting him into 3rd position for distance after two rounds. The race was also clearly on between Jay Moledzki and Ian Bobo of Team PD for 1st overall place as the two men each had a current first place standing. With Jay being the current world champ, and having so many titles to his name, Ian took on the role of the 'underdog' and the competitors and spectators were kept on the edge of their seats.
Two speed rounds took place the following day. Rob and Chris were two of only 3 jumpers using only one canopy for the entire event - all other jumpers downsized for the speed event to maximize their wingloadings. Pablo Hernandez, whose record-breaking rounds at PSC last year were inspiring to watch, kept up a consistent performance. By the end of the day, Jay's cooker on round 1 had edged him further ahead of his teammate still - but the feeling was that the game was most definitely still on.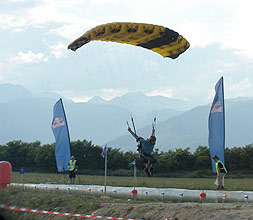 But on the last day of competition, with one round of each discipline to complete, Jay's performance could just not be beat, and Ian had to content himself with a Silver. Chris was happy to win a round of accuracy, and was pleased to place in 12th position overall (picking up 4th place in distance), with Rob Kruger at 15th.
For the full results check out : http://webscoring.wag2009.com/Parachuting.aspx?R=CP&L=E
Chris also kept us up to date daily, and his 'diary' can be viewed at: http://www.gofreight.co.za/swoop/Calendar.asp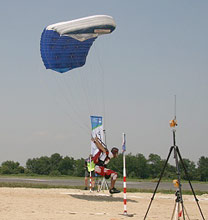 There was an overwhelming sense of achievement as our jumpers touched down back at O R Tambo. The are the first South Africans ever to be invited to this exclusive event. Having been treated to a truly world class event by the hospitable Italians, they were honoured to have been a part of a phenomenal competition. The 10 days in Italy has made lifelong friends out of the competitors; and the feeling of camaraderie very nearly overshadowed the significance of the competition.
We are all looking forward to the up and coming World Cup which JSC will be hosting in December. Pottie, Nick and the amazing staff and club members at Carletonville have really put in a huge effort in getting the pond and facilities ready. Chris and Rob are both expecting to improve their overall placings once again in December, and are looking forward to competing on a global stage once again.