1st Annual tonto Boogie!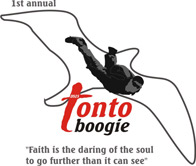 "Faith is the daring of the soul to go further than it can see."
tonto D515 was one of South Africa's most accomplished contributors to the sport. Come out and celebrate his life with us at his home DZ.
Where: Johannesburg Skydiving Club
When: 25-26 October 2008
Events: Wingsuit competitions and high-end demo suits.
Flock organizing.
First flight courses for beginners - learn how to fly!
Tracking competition.
Canopy Formation
Freefly
Formation Skydiving
Atmonauti
Load organisers from all disciplines will be there!
Party Saturday night!
Aircraft: PAC 750XL
More information to come. Put this on your calendar now and be there to start an annual tradition. We look forward to seeing you there!
-Taya
tayaweiss@gmail.com