Witbank 30th Birthday Bash : 2 – 5 April 2010, Witbank Skydiving Club
By Linda Steyn
Witbank Skydiving Club was established in May 1980 as Witbank Sport Parachute Club.
The first article calling for the establishment of a Skydiving Club in Witbank was placed by Lawrence Rowe from Klerksdorp Skydiving Club, into the Witbank News in May 1980. Due to an excellent response, a meeting was called at the Moth Club which 26 people attended and students were recruited for a first jump course.
In June 1980, the very first group of first timers was trained at Witbank by Instructor Willie Scroobie and travelled to Westonaria to perform their jump out of that club's Dakota as Witbank did not yet have an aircraft. This group included David McCafferty who at the age of 15 obtained a waiver to jump by his father, Jack, who at that stage had already done several jumps.
The founder of the club, Lawrence Rowe, was killed in a car accident in November 1981 and his wife generously donated all the equipment to the club that consisted of a number of round parachutes, front-mounted reserves and helmets.
The club nearly closed down during this interval and most members frequented Wonderboom Skydiving Club until a group of enthusiasts, which included the notorious Mike Stanton, took up the reigns.
The club hired in an aircraft until Kobus Campher bought a Cessna 205, ZS-DRP in 1982 which he flew until he retired in 2000. DRiP, as she is affectionately named, is still active in the club today and was refurbished with a 'new' engine in 1998.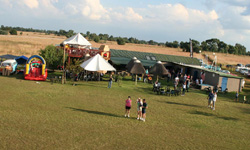 Witbank Skydiving Club
Witbank Skydiving Club recently celebrated their 30th Birthday Bash and Reunion over the Easter Weekend 2010 and skydivers from the past to the present came to enjoy the festivities. Allan Murray (Muggy) flew in from New Zealand, Nigel Peart flew in from the UK, David McCafferty flew in from Australia, and many other members from the early 1980s and 1990s travelled from far and wide to celebrate the day, a few of them getting retrained and doing a jump too. Founder member, Jana Meyer, attended the day and still supports the club as Manifest Officer.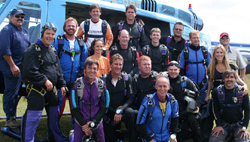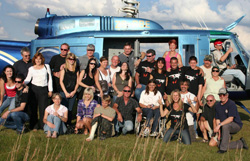 First load Old timers
After what was threatening to be a miserable rainy day, the skies opened up at 09h00 giving us the perfect day to play like only skydivers know how to.
The Bell 205 was kept very busy indeed with jumpers going up to 10 000ft AGL and low flying chopper flips for passengers.
Children were heard screaming with delight from the jumping castle all day as well as being kept busy hunting all day for the hundreds of Easter Eggs dropped from the chopper for them.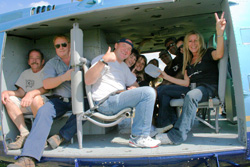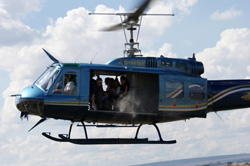 RIP Mike Stanton
Sadly, one of the founding members, Mike Stanton, born 5 April 1932, passed away peacefully on 16 February 2010. A chopper load of old friends went up and, in a moving flight over Witbank Skydiving Club's airfield, Mikes ashes were scattered. A befitting farewell and resting place for a colourful character in Witbank Skydiving Club's history and who was loved and respected by so many skydivers.
(Photographs: Linda Meyering Steyn)