Canopy Piloting Nationals : 18 – 21 March 2010, Pretoria Skydiving Club
By Jacqui Bruwer, C1673
The boys are back in town!!!!!
The South African Canopy Piloting Nationals was held at Pretoria Skydiving Club from the 18th until the 21st of March this year. Ten senior and one intermediate entry were received. This is considerably lower than in previous years, but we did host 2 World Class events, 2 years in a row, and it was still a lot of fun.
With Roy Seber as our only entrant for Intermediate, Roy proved to be quite the sportsman, attempting the Speed course which is not compulsory for intermediates but showed his willingness to learn. Well done Roy and next year the Seniors had better watch out, we have a new swooper in town!!!!
One of the highlights of the Senior event was the new South African record in Distance of 163m by Rob Kruger – watch out Nick Batch, you have competition!!!!!!
The Canopy Piloting World Championships will be held in Kolomna, Russia in August this year with South Africa being represented by Selwyn Johnson, Rob Kruger, Andre Fourie and Tim Mace. Ettienne Bosch was elected as event judge for speed at this competition and Jacqui Bruwer will serve on the Jury for this event.
We wish our boys all the best!!!!!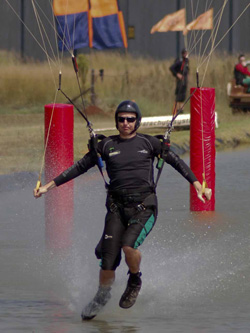 André Fourie Rob Kruger
2010 Canopy Piloting Open Overall Results:
Pos

Team

Competitor

Accuracy

Distance

Speed

Total

Pos

Points

Pos

Points

Pos

Points

1

R.S.A.

103 Selwyn Johnson

1

293.670

4

192.331

1

269.087

755.088

2

R.S.A.

104 Christopher Teague

2

286.486

2

230.784

5

187.505

704.775

3

R.S.A.

105 Rob Kruger

4

141.772

1

282.710

3

216.398

640.880

4

R.S.A.

107 Brendon van Niekerk

3

201.675

3

204.466

4

200.046

606.187

5

R.S.A.

101 Andre Fourie

6

108.860

5

160.362

6

157.721

426.943

6

R.S.A.

109 Rob Verner

8

53.523

8

109.271

2

222.582

385.376

7

R.S.A.

102 Tim Mace

5

127.848

9

99.901

8

83.426

311.175

8

R.S.A.

106 Dian Kemp

7

68.354

7

138.738

9

81.653

288.745

9

R.S.A.

108 Sean Schook

9

0.000

6

153.204

7

100.000

253.204

10

R.S.A.

110 Jasper Williams

9

0.000

10

0.000

10

0.000

0.000
2010 Canopy Piloting Intermediate Overall Results:
Pos

Team

Competitor

Accuracy

Distance

Speed

Total

Pos

Points

Pos

Points

Pos

Points

1

R.S.A.

201 Roy Seber

1

100.000

1

300.000

1

300.000

700.000
(Photographs: Dirk Strydom)