Flying the big SA flag at the Klerksdorp Airshow : 26 June 2010
By Ralph Ridge, D805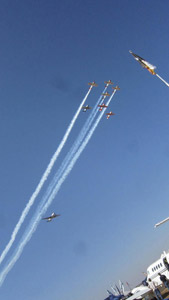 Arriving early to prepare for the opening act, it was time to ship the big flag off to the waiting Albatross.
Although I've jumped the aircraft many times my heart still skips a beat whenever I exit and have to go under the propeller.
Leaving in the correct position in relation to landing is critical as steering the 486 square metre flag is tricky, even in nil wind conditions.
The flag weighs in at 76 kg so I use a tandem rig which normally carries passengers but with no arms or legs or someone to talk to, concentration is at a max.
We leave the aircraft on time just above 6,000ft accelerating to 300kph in 10 seconds.
Throwing a drogue to slow down to 200kph, it's time to activate the parachute, steering the parachute to where I need to be then, at 4,000ft, the flag is released. The process is slow but precise and when the flag is deployed the real work begins.
Starting a landing pattern has already begun and you need to land in front of the thousands of people gathered below.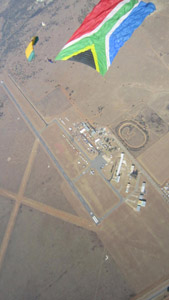 During the jump, the National Anthem is played and the excitement is heightened as the show begins. The display team lands first followed by the big flag. On the spot and on time.
This is not a normal jump and the pride I feel after jumping the biggest flag in Africa is everlasting...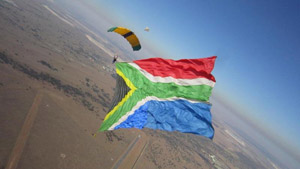 Gathering up my gear then off to the skydiving club and still seven jumps to do ... this was not a normal watching T.V. day, but one to remember.
Many thanks to the pilots of the Albatross, to display jumpers: Graham, Jim and Marietjie and to the organisers of the Klerksdorp Airshow…. each year they pull something special out of the bag and really make it an air show not to be missed.
(Photographs: Graham Field)