SPORTS SKYDIVERS ASSOCIATION (SSA)
SSA Activity Plans 2010/11
Formation Skydiving:
September:
Big Way camp at Johannesburg Skydiving Club with Tim Mace and Norman Langeveldt, sponsored by the PAC Partnership. The camp will focus on big way skills in controlled jumps. Participants will need to be approved to attend the camp based on their skills and readiness. This is to ensure that the jumps are productive and jumpers who are ready gain the maximum value. If you are interested in learning some big way skills, start preparing now to ensure your FS skills are adequate to get onto the camp. We think this will be one of the most rewarding big way camps we've seen in a long time in South Africa!
'Shake the Bag' 4-way camp at Skydive Rustenburg. This camp will focus on 4way skills and particularly on bridging the intermediate gap. There will be lots of coaches on the ground all weekend for seminars, debriefs and creeping, to help existing teams advance their skills and help individuals find team mates. The focus is to begin a build-up to SA Nationals 2011. Existing teams (especially intermediate level teams) and any FS jumpers looking to get onto a 4way team should make a special effort to attend this camp.
Ongoing:
Coaching campaign. With the aim of maintaining a baseline standard for FS coaching across the country, the FS committee plans to run a series of coaching seminars, communication and some adjustments to the Cat II Program. All FS coaches should endeavour to attend at least one of the seminars, which will focus on coaching content, the SSA's minimum expectation of active coaches and the sharing of information and coaching techniques between coaches. The seminars will be structured as interactive focus groups in the hope that we can raise our level of coaching by combining and sharing different experiences and approaches.

From October:
South African Skydiving League (SASL). The FS committee will be partnering with SASL again this year. Last year saw SASL and FS feeding into each other well, resulting in an increase in active and productive FS at all levels. Both committees are excited to keep this partnership and extend it in various ways and use it to grow FS skills, competition and general participation. There will be more communication on this when the new SASL season starts October, but look forward to joint events, development projects and more South African FS competition.
The FS Committee will carry forward R6 000 saved in 2009 for the 'In Time' Judging System as it is definitely an asset to have during Nationals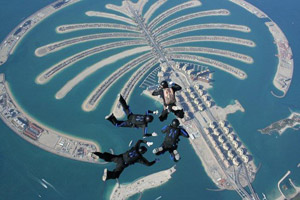 Copasetic at the Dubai Parachuting Championships in January 2010
(Photograph: Naomi Kotzee)
---
Artistic Events:
Volare Boogie:
The AE committee are bringing some of the members of the UK freefly team Volare to South Africa for a boogie/skills camp in September. Volare are the current world freefly champions. This will be paid for in part by SSA fees and in part by registrations. The boogie is already fully subscribed.
Big way record:
As part of the Volare boogie, we aim to set a new South African big way head down record. Two of the Volare team members were on the 108-way head down world record in 2009 so using them to aid in setting a new SA record is a great opportunity.
Freefly trophy:
The AE committee plans to purchase a freefly trophy for Nationals as there isn't one at the moment.
---
Canopy Formation:
CF Development event at Nationals:
Funds to cover ground-to-air judge expenses. Venue: Skydive Rustenburg
Q4 2010:
CF Skills camp. Funds to partially cover Coach slots and travel costs. Venue: Durban Skydive Centre (TBC)
Maintenance:
SSA CF canopy to cover repairs, reserve repack (if required) or part replacement
---
Freefall Style & Accuracy Landing and Paraski
MOPs:
Updating current version of our MOPS with the latest FAI Competition Rules for all SAP disciplines. Also look at the current CAT program
Paraski:
Set up specific rules regarding Competitions, Nationals Competitions, Team Selection, Representation in World Competitions
Coaches:
Appointing Coaches, sorting out coach ratings.
SSA Handbook:
Updating the SSA Handbook with all relevant info for Style, Accuracy & Paraski.
Set up concise and definite rules & regulations regarding representing SAP in World Competitions. Set guidelines for SA Colours specifically for SAP.
Judges:
Get sufficient number of Judges rated and trained for all SAP disciplines.
Training Camps:
Plan to host 2 x training camps this year. So far JSC & EP Skydivers have expressed interest in hosting this. However this can only happen once we have resolved the matter of coaches. All training camps costs will be for the personal account of the coaches & participants.
SAP Nationals 2010:
We are planning to host a separate PASA Nationals Competition for Style, Accuracy & Paraski.
Military involvement:
We are planning to work very closely with the Military skydivers this year, in getting help & growth of SAP.
---
Canopy Piloting:
Skills camps/seminars:
2 Skills Camps will be hosted during 2010 focusing on intermediate jumpers.
Competitions:
3 Smaller competitions will be held of which the total score will count towards Nationals and more details will be given in the CP Nationals document at the end of June 2010.
Coach ratings:
A Coach Rating system will be developed in conjunction with the competitors and will form part of the SSA Document.
No costs will be spent on CP this year, as the committee is trying to build up a fund as CP equipment is costly. Should a valid event or reason for expenditure occur during this financial year, the CP Committee will discuss the payment thereof, this fund is therefore not fixed.
---
Wingsuiting:
July 2010:
Wingsuit weekend at JSC - Self funded
August 2010:
Wingsuit weekend at Skydive Rustenburg - Self funded
October 2010:
Tonto weekend at JSC - Self funded
Wingsuit coaching seminar to be organised to coincide with Taya's visit to SA - Self funded
Date to be confirmed:
Wingsuit boogie at Durban Skydive Centre - Self funded
The wingsuit committee has requested quotes from manufacturers to purchase new student wingsuits.
---
Atmonauti:
Nationals Championships:
2010 National Championships will be a standalone event due to bid documents being exclusive of Atmonauti.
It is planned that a traditional weekend will be utilized to reduce costs.
Entry fees and Atmo funds will be utilized in the best way possible in order to maximize the limited funds available.
Durban Skydive Centre and Johannesburg Skydiving Club are being shortlisted as host DZ's. All other DZ's are welcome to approach the ATMO SSA committee if there is an interest to host the event.
SASL Atmo League:
Development of SASL Atmo League:
The objective is to continue promoting the training of competitors (and judges), with the ongoing improvement of all aspects of competition.
Development of Atmo Videographers:
This season so far has created many training opportunities, although it was found that competitors, due to their relative inexperience, have chosen not to submit footage, but focus on the draws as a training objective.
It is hoped that in the near future, skilled videographers (and more of them) will help in establishing the Atmo League and promote better footage for judging and marketing of the discipline.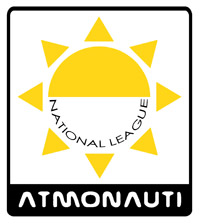 World Atmo League:
The hard work put in by the Atmo SSA Committee and Judges – with the creation and development of the official Atmo Judging Criteria - as well as the excitement generated by the SASL, has directly lead to the creation of the World Atmo League (Italy, Australia, SA, other) in which South Africa will be represented this year at the launch of the world league in the ARW2 format.
Coach Ratings:
Development of Atmo Coaches is key in the establishment of the discipline, and as such the updated MOPS have a specific section dealing with coaching.
Currently 2 coaches are in training, one in Gauteng, the other in KZN.
The objective is to award the first coach ratings in 2010.
Manual of Procedures:
Atmo MOPs document has been updated and disseminated, and has been posted to the PASA website.
This document is however still a work in progress and ongoing development (in collaboration with NSTO) will be key objective in 2010 prior to formalizing and printing.
Focus will be on exit procedures, flight paths, break-off.
---
Judges:
August 2010:
Website hosting for previously sponsored website R330
December 2010:
Log books, DVDs, printing costs for training material, etc. R500
Ongoing:
Introductory judging courses - Anyone interested in learning to judge can contact the committee and courses will be run based on that interest. Additional courses will be advertised by the committee after the winter hibernation
Judging exposure at SSA events - Events and competitions, such as SASL will be used as a format for fish-bowl judging and introductory courses in judging. SASL launch in September to be used. Others will be utilised as they arise and where it will add value to the event
Majority of Judging budget to be carried over to 2011 to build sufficient funds for potential recurrency training subsidies which will be combined with new judge training