POPS Mini Meet – Accuracy Competition and Night Jumps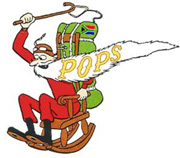 Witbank Skydiving Club : 10 July 2010
Come and join us for a get together at WSC for a fun POPS event in
conjunction with the later planned night jumps.
Daily registration waived for visiting POPS.
2 rounds of fun accuracy with prizes for winner and runner up.
First prize - R500:00 cash
Runner up - Free reserve repack
Slot rates R210 for 10000ft - Atlas Angel
Night jumps R220 for 10000ft - Cessna 206T
R160 for 4500ft - Cessna 206T
Bring and braai and have an ice cold beer "or two" with fellow POPS
Pre-manifesting necessary for night jumps: Ian 083-326-5746 or ian@worldofdiamonds.co.za
"You don't quit skydiving because you get old; you get old because you quit skydiving!"
~ Bill Wood USA Top Pop #8
Night jumps not restricted to POPS – everyone welcome. B Licence required.
Over 40 but not a member of POPS yet? Email pops@para.co.za for an application form.
Lifetime membership : R200