African Freefall Convention 2007/8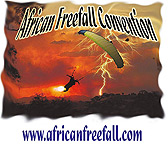 More than 200 skydivers of various disciplines and experience levels came from numerous countries around the world (including South Africa, Mozambique, Botswana, England, Italy, Germany, Finland, Belgium, France and Australia) for the 3rd Annual African Freefall Convention (AFFC) at Mafikeng Airport in The North West Province of South Africa.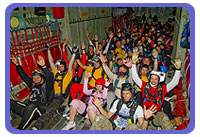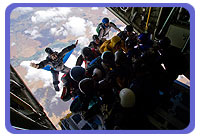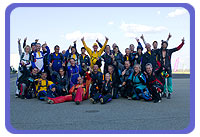 The blue skies of Mafikeng were once again blessed with multicoloured parachutes from around the world with well over 2000 descents at the skydiving Boogie which ran from 29th December through to 6th January 2008.
Organised loads were arranged in Formation Skydiving – by British skydiver Dave Morris, in Freeflying - by South African skydiver Tim-O-T; in Atmonauti - by Italian skydiver Marco Tiezzi, and in Wingsuiting - by Alex Lopez from Belgium. All organisers were supported by our own local staff.
A number of formation flights with both the Pilatus Porter and PAC 750XL allowed for some big ways in the time before the Hercules C-130, provided by 28th Squadron of the South African Air Force, arrived. Between 70 and 100 skydivers were on each load on the C-130 making for some fantastic skydiving opportunities as well as awesome visuals for those looking up from the ground.
120-second 8-way Wingsuit flights, 35-ways in formation flying, 7-way linked flights in Atmonauti and all the normal chaos in Freeflying was achieved. A wonderful development in the sport of skydiving held in South Africa.
Marco Tiezzi - Italy 14 000 skydives "I am very impressed with the standard of skydiving in South Africa".
Dave Morris - UK 12 000 skydives "This is my third visit to South Africa and I am already looking forward to coming next year".
Ralph Ridge - 8 500 skydives, AFFC meet director "This event has received unprecedented support from the local authorities, 28th Squadron SAAF and the Parachute Association of South Africa".
Tim-O-T - not enough skydives (9700) Freefly load organiser "Where are the rest of my choms?".
Leon du Toit - 360 skydives – Wingsuiter "Its cool when people who are really experienced share their knowledge and are still excited about skydiving, this was true for wing suiting at the AFFC. Super Psyched".
The African Freefall Convention has become an annual South African Boogie. We invite all skydivers to join us next year for a bigger and better AFFC 2008/9.