Atmonauti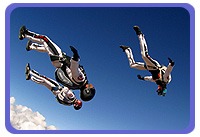 Atmonauti, unlike traditional freefall that utilises the relative gravitational wind from "below" to achieve a multitude of stable body positions at terminal velocity, is the name given to the technique that intentionally utilises lift to overcome gravity in order to achieve relative wind (or a custom "tube") at an angle of between 10 and 45 degrees, whereafter the atmonaut (atmosphere navigator) may introduce freefly body positions, while "falling" at greatly reduced speeds (90mph – 110mph), resulting in extended freefall time and increased safety.
Due to the reduced air speeds, Atmonauti is a social discipline accessible to everyone from A licence up. This discipline has been successfully practiced in South Africa since January 2007. Marco Ciocca obtained an Atmonauti Master Navigator rating in Italy and has huge plans for the development of this exciting discipline in South Africa. These plans include getting Atmonauti recognised as a discipline in its own right within the SSA as well as the inclusion of its own section in the PASA Manual of Procedures. A South African National Championships in Atmonauti is planned for mid-2008 with Marco Tiezzi, the founder of Atmonauti, in attendance to further train and our local judges as well as assist with coaching and judging.
Marco Tiezzi attended the recent AFFC in Mafikeng. The Atmonauti component of the boogie was a huge success with over 30 newcomers being instructed in this discipline. A new official South African and Continental 5-way linked Atmo record was set although a 7-way was done but the footage was not clear enough for the judges to adjudicate the jump.
For more information, contact Marco Ciocca through email or visit www.atmonauti.com