Discipline description
The SSA is there to help you, the skydiver, obtain skills in order to progress in the sport and to compete at national and international events. The tick boxes on the Membership Application Form determine the funds allocated to each discipline to promote itself. When you renew your membership, please think carefully about your discipline choices before ticking these boxes. You may select as many boxes as you like with your contribution being split accordingly. If you have any questions in this regard, please ask an instructor or an SSA representative (details are at www.para.co.za under

"sports"),

or

contact

the PASA office at

admin@para.co.za or

Telephone / Fax: 021 553-3398.
---
Artistic Events – changes to freefly licence requirements
The Artistic Events committee members of the SSA have put a lot of work into updating and amending the C and D licence requirements for freeflying. It was felt, even by proficient freeflyers, that the D licence jumps were extremely difficult to achieve. These changes are effective immediately and will be reflected in the next update of the PASA Manual of Procedures scheduled to be lodged with the Civil Aviation Authority during the course of this year.
---
Formation Skydiving 2-way dive pool
The 2-way dive pool that will be used for Nationals can be downloaded here... There will be 4 formations per round.
A dive pool where single grips have been eliminated and with 5 formations per round has been developed and will be tested after Nationals 2008.
---
Judges
Chief Judge, Annelie Hoeksema invites everyone interested in becoming a skydiving judge to contact her. Pia Berggren, who is an FAI judge in Formation Skydiving and Canopy Formation and also chairs the IPC Judges Committee, will be training new judges at the nationals 2008 meet being held at SkydiveXtreme. You must be available from 29 April to 3 May 2008. All costs for accommodation, food and travel will be for your own account. Trainee judges who attended Nationals 2007 must also contact Annelie if they are interested in furthering their training this year.
A judging seminar will be held prior to the commencement of the 2008 Nationals at SkydiveXtreme. This will benefit all skydivers as Pia Berggren will give jumpers insight into the rules and how they are applied and explain how formations are judged.
Records
Although we are aware of various skydiving records being set over the years, it appears that none of these was ever officially ratified and little or no proof can be found of these records. Annelie Hoeksema is urging anyone with proof such as video or photographic evidence or any documentation relating to records to please send these to her as soon as possible.
Contact Annelie on 082-341-4585 or email annelie.hoeksema@gmail.com
---
Atmonauti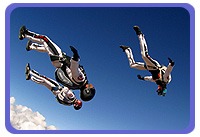 Atmonauti, unlike traditional freefall that utilises the relative gravitational wind from "below" to achieve a multitude of stable body positions at terminal velocity, is the name given to the technique that intentionally utilises lift to overcome gravity in order to achieve relative wind (or a custom "tube") at an angle of between 10 and 45 degrees, whereafter the atmonaut (atmosphere navigator) may introduce freefly body positions, while "falling" at greatly reduced speeds (90mph – 110mph), resulting in extended freefall time and increased safety.
---
Stop Press - Missing Story!
In 2007, a group of skydivers sat at lunch in Cape Town and discussion turned to an idea to preserve the sport's rich and colourful heritage in South Africa. The seed was planted to write a book, before the men and woman who blazed these stories through the skies over Africa moved on. Appeals were sent out via the internet and word of mouth for South African skydivers past and present to send us their stories, even just a chapter, of their MOST vivid memories.
Roll on 2008, and these accounts are starting to arrive in our mailbox regularly. The stories are ranging from those written by the very first pioneers of the sport in South Africa, those who drew straws to see who would jump before the parachute was sent back overseas for a re-pack, to the modern day athletes who will share the emotions of saying "I am a formation skydiving world champion", to the finally uncovered accounts of exiting a Cessna over a city centre at 3 am in the morning to find a burger to eat…
We have a range of funny, sad and downright mad stories from clubs and people across the country, each of which will make this book a must-have for any aviation enthusiast.
We are however missing one important story…YOURS!!!!!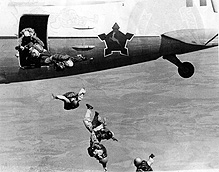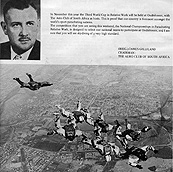 Please mail us your paragraph / page / or few lines to add to the history of our sport. Looking forward to it!
Forward all info to ….. ralex@iafrica.com
Blue Skies.
Terryl (Cliffe) D342 and Jeff (Ayliffe) D374