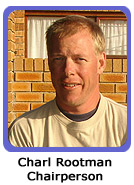 The first half of 2009 has proven to be a busy and productive period for skydiving in South Africa, with a number of interesting changes and successful events. The last few months also hold promise to be no less eventful.
During March a Special General Meeting for PASA members was held, with the main purpose to consider proposed amendments to the PASA constitution. This was long overdue and will hopefully now become an ongoing process. The amendments included a change in the structure of our organisation, which includes the formation of a PASA Management Council. This has already been implemented, and more information regarding this can be found later in this issue.
We revisit the amazing Skydivers' Reunion, find out what our "more senior" chronologically challenged skydivers are up to, read about the Nationals Championships in all disciplines, and marvel at the exploits of our skydivers (and judges) who represented South Africa abroad. We also welcome two new DZ's into our "family", one in the Western Cape and the other in KwaZulu-Natal.
We also look ahead to a number of skills camps and boogies, the World Cup in Canopy Piloting to be hosted by JSC, as well as international record attempts. As usual, the various disciplines in the SSA report on their activities, and be sure not to miss the announcement of a new online South African Skydiving League!
We hope you will enjoy this 5th issue. Thanks to all who have taken the time to submit articles and please keep them coming. We cannot keep this newsletter fresh and exciting without your involvement. As always, feel free to email it to all your friends worldwide. We are pleased that our distribution list has grown with each issue!